Some countries just can't catch a break at Eurovision, and Finland is one of them. It has one of Europe's most eclectic music industries. Yet it also has one of Eurovision's worst track records. Finland is one of our most beloved countries in the contest, and it breaks our hearts whenever they do poorly. Since UMK, the Finnish national selection, is accepting submissions from September 1 until September 8, wiwibloggers Sami and Sopon have put their heads together and found ten artists they would love to see represent good ol' Suomi.
What exactly is Finland's problem?
UMK is part of the problem. Finland has so many established artists that have expressed interest in participating, yet the contest is only open to unknowns. Finland would fare better with an internal artist selection, while letting the public choose between three or four of their potential songs.
Finland is also very experimental: they've done it all from monster rock, Ke$ha-esque trash pop that you love, lullabies, alternative modern rock, and screamo. If they were to settle for something safer yet classy, they would find more success.
Finally, they need to take advantage of their language. Finnish is one of the most "pure" languages, from a linguistic standpoint. The less pure Estonian language sees great success in the contest, and foreign language songs stick out more than English ones nowadays. Sure, the Finnish language hasn't done too well recently, but the two times they opted for Finnish over English since 2000 were in more polarizing songs (a traditional folk song and a screamo song). In short: Finland needs a non-polarizing song (preferably in Finnish) by an established artist.
Who can accomplish this?
1. Jenni Vartiainen
With the looks of Loreen and the voice of Björk, Jenni is certainly a threat to any Joe Schmoe amateur artist in the contest. Rather than using her hips to sell records like many other European pop artists, she inserts class into her songs. She always keeps it dark and mysterious, but she has shown versatility in genre. From the epic electropop in "Junat ja naiset" (Trains and Women), to the dramatic ballad that is "Missä muruseni on" (Where My Sweetheart Is) to the honky tonk-influenced pop song "Eden", she never fails to impress us with her amazing voice.
2. Sara Forsberg
This is certainly an unfamiliar name to some. She hasn't released a song yet, but this musically-gifted young woman has bright things in her future. Sara came to prominence earlier this year under the moniker "Smoukahontas" when she posted a video of her mimicking native speakers of various languages. Some weeks later, she posted a video of her impersonating 14 different (sub)genres (including 3 different types of indie/hipster pop and 2 types of schlager). This video led to a record deal from Capitol Records, making Sara the first Finn in history to sign to a major American label. Given her bubbly personality, her flexibility in all genres and ranges, and her youth, she'd make a great addition to the 2015 lineup.
3. Sanni

Sanni is one of the hottest names in the Finnish music industry right now and has over 8 million views on her music videos in Youtube. Her debut album "Sotke mut" (Mess Me Up) has reached gold status in Finland. She has written all the songs on the album by herself, making the songs very personal. Influenced by electro pop and hip hop, Sanni does not fit neatly into any box.
4. Robin

Known as Finland's Justin Bieber, this teenage star will be eligible to perform in the adult contest next year. Robin has already had multiple hits (pre and post-voice crack), such as the skater anthem "Frontside Ollie", the teenage love song "Puuttuva Palanen" (Missing Piece), and the pop ballad "Onnellinen" (Happy). One of his most recent hits, "Erilaiset" (Different), is also a love song, but shows off his now-mature vocals. This supercute guy would certainly be a hit with younger Eurovision fans, and on a side note, be a real contender for the title of Eurovision's Next Top Male Model.
5. Krista Siegfrids

Finland's Ke$ha has already been to the contest before, and made the final, but this was back when she had no fan base or standing in the Finnish music industry. Now that she has gained more popularity and has become a household name, we think she should take another shot at Eurovision glory. After all, she has stated repeatedly that she would love to return to the contest. Her modern, loud taste matches her personality. She is a proud, bold and thoroughly twenty-first century artist. She has also shown that her best music can be different than what we know her for after she released "Can You See Me?" And although charismatic Krista missed out on receiving the Miss Congeniality Award, she would have another shot at it in Vienna!
6. PistePiste
PistePiste only released his debut album in 2013, but has already had big success with his singles "Elän sut uudelleen" (I Live You Once Again) and "Hetken maailma on tässä" (For A Moment the World Is Here). PistePiste (or Harri Arhio) makes very laid-back R&B music and has a story behind each of his songs. His songs with catchy choruses and beautiful melodies might be the perfect choice for Finland.
7. Chisu
Thirty-two year old Christel Sundberg, a.k.a. Chisu, is extremely versatile. With three number-one hits, two gold records, and one platinum record since 2008, she has made a great impression in the Finnish music industry. She conveys different moods in her songs, from the more somber "Sabotage" to a more chipper in "Baden-Baden" to the other-worldly "Kohtalon oma" (Destiny's Own). Would her less-than-flashy style work in a contest where bold entries reign supreme? After seeing the Netherlands triumph with something more laid-back, maybe Chisu can do the same for Finland.
8. Nikolai Alho
Nikolai Alho is better known as a player in the premier division of Finnish football, but after his covers on YouTube went viral, he signed to PME Records. Nikolai started his music career in 2013 and his singles "Standing Right Here" and "Leggo" have got lots of air play in Finnish radios. Recently he released "Hold Up" with American rapper Drama B. Alho mixes hip hop and pop in his music and he does both very well. This makes his sound very fresh and international.
9. Diandra
Diandra is one of the best singers in Finland and she's also been noticed internationally. She has gotten vocal coaching from David Lee Brewer, who has coached Beyonce and Kelly Rowland, to name just a few. Diandra won Finnish Idol in 2012 and after that she released all kinds of music. Diandra has said that she is a huge Eurovision fan and that it's her dream to sing on the Eurovision stage. She already took part in the Finnish selection back in 2013 and finished third with "Colliding Into You". This sadly means that they might not take her back to this competition for a few years. However, Diandra had her biggest hit during this summer with "Paha poika" (Bad Boy). The song already has over two million streams on Spotify and a million views on YouTube.
10. Sturm und Drang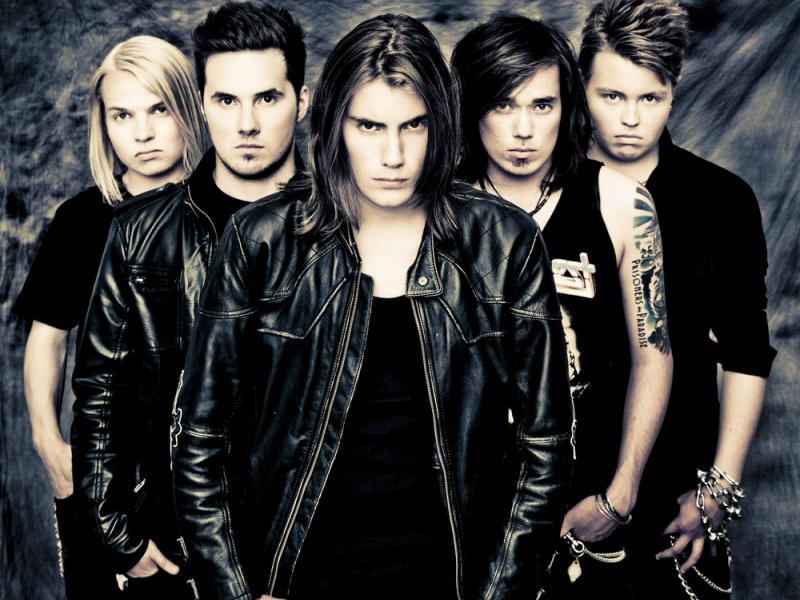 OK, fine, a Green Day-influenced metal band is the exact opposite of non-polarizing. And no, this band doesn't sing in Finnish, but in English (most of its members are Swedish Finns). However, they certainly are a memorable act, and they do what they do well. Also, Swedish Finns often do well in the national final, seeing that three of the four past Finnish acts were of Swedish descent. While they have next-to-no variation in style from song to song, they certainly appeal to the more alternative side of Eurovision, and would do well with fans who are looking for something different from flashy schlager. Check out some of their hits, like "Hysteria", "Break Away", and "Molly the Murderer".
Who would do the best for Finland? Are there any artists that we missed? Is Finland doomed, or can these artists give us hope? Kertokaa meille kommenteissa, kiitos! (Tell us in the comments, please!)
This story was co-authored by Sami Luukela