The Peppermints, a girl group featuring five Italian and Sammarinese teens, will be representing San Marino in the Junior Eurovision Song Contest this month. Our New York correspondent, Sopon, had the opportunity to catch up with the group beforehand.
Hi, girls! We want to thank you very much for this interview! We love your song and are excited to hear you guys in Malta. We want to know a bit about you first, so can you please introduce yourselves?
Anita: Hi, everyone! My name is Anita Simoncini, I'm 15, and I live in San Marino.
Arianna: Hi, my name is Arianna, I'm 15, and I live in Galeata, a small village in the province of Forlì-Cesena. Music is my biggest passion, but I also love to travel. I'm cheerful, lively, and a big extrovert.
Greta: I'm Greta Doveri. I'm fourteen years old and come from Buti, in the province of Pisa. I'm in my first year of high school.
Raffaella: Hey! I'm Raffaella Perniola, a fourteen year old from Palagiano in the Taranto province of Italy. Everyone says I'm a sunny, sociable girl! I love caring people; I do not tolerate rude and disrespectful people! I love to have fun and joke around a lot, and I love to sing because music is my life. I could not imagine a life without music! Other than music, I also am very interested in motorcycles, they are my second passion! I also love to travel, but I only go with people who I know will be fun to go with.
Sara: My name is Sara Dall'Olio, and I'm 15 years olf. I live in Cervia, a beautiful coastal city in Romagna. I'm in my second year of school and get great grades. My favorite subjects are English and Law, but I don't care so much for math. My favorite colors are purple and turquoise, which are also the colors of the Peppermints! I love a good Italian pizza! I also love dogs; in fact, I volunteer at a kennel in Cervia and have sung at several fundraisers for our furry four-legged friends! Finally, my favorite sport is volleyball, which I played for five years before school got in the way.
What do you guys want to do when you grow up?
Anita: I have a big dream: to become a singer and dancer like my idol, Beyoncé. I continue to commit to my dream!
Arianna: I have no idea still!
Greta: It's very difficult to answer at this age. I don't exactly know what I want to do, but music will never leave me, I'm sure.
Raffaella: As an adult, I'd love to pursue a career as a singer.
Sara: It would be great to become a famous singer, or at least work in the music industry because it is my life.
What do you guys like to do in your free time?
Anita: In my free time, I love to dance, listen to music, and go on walks.
Arianna: I love to hang out, eat, and dance with my friends.
Greta: It depends on the season. However, between school and the singing commitments, I always love a little break when I can watch TV with my poodle or friends and family.
Raffaella: When I have some free time, I like to go out with my boyfriend and spend as much time as possible with him.
Sara: I like listening to music, singing, being with my friends, and going to the shelter to spend time with my beloved puppies.
It's very nice to know who you girls are, as musicians, teenagers, and people. But now let's get down to business; we want to know more about the group and music! So, please tell us: how was the name "The Peppermints" chosen, and what does it mean to the group?
We were asked to come up with some ideas, but this one was proposed by Antonello Carozza, one of our producers, and has been endorsed by all of us since. We call ourselves "The Peppermints" because we are sweet girls, but also peppery and fiery! We would like to convey happiness like candy.
Are there roles in the group, so to speak?
No, we consider ourselves equals in this project and are very close. Every decision is made as a group.
You all competed in "Vocine Nuove di Castrocaro" prior to this. Were you friends before this experience?
Only two of us knew each other, Sara and Greta. The rest of us met at the beginning of rehearsals for Junior Eurovision in the beginning of September. We were chosen by the production team from this show, and we are nearly certain this process will be repeated next year.
How do you guys stay in contact while you are living all over Italy and San Marino?
Mostly through texting, Facebook, and other social media. We have created a few groups on WhatsApp where we write each other and send photos and audio.
Do y'all hang out with each other outside of rehearsal?
Unfortunately, we have not. We are very busy individuals, and also live very far away. Plus, we each speak a different dialect of Italian, so imagine the confusion if we were to hang out more!
Is this video the official clip, or just footage of the recording process?
It's not the official clip, but rather a backstage clip to serve as a preview. It is possible that we will prepare an official video after the contest.
Who are your musical influences?
Anita: My favorite genres are R&B and pop.
Arianna: My musical influences are mostly in pop music, and I am inspired mostly by famous singers such as Edit Piaf, Laura Pausini, and Mina.
Greta: I realize that musical tastes change with age. As of now, I'm passionate about blues, soul, jazz, R&B, and Black music. I've also started to acquire a taste for country and rap.
Raffaella: I enjoy listening to pop.
Sara: I personally love melodic pop, such as that from my favorite singers Celine Dion and Whitney Houston. I also love the Italian singers Lara Fabian, Laura Pausini, Giorgia, and Mina.
We are very curious to hear some of your opinions on the contest and your experience preparing for it. Firstly, there seems to be more teenagers in the contest this year than any other year. However, the Dutch singer, Julia, said that there aren't that many teenagers watching. Why do you think they would compete if their peers aren't interested?
We believe this is because in this particular age, the voice is of a high quality and can convey more emotions in order to empathize with their peers. Also, the contest is becoming more and more popular, and so the voices are improving in quality by the year. Teens have more experience compared to children and are more mature, therefore being an easier choice.
Raffaella, how does it feel to be in the same shoes as your older brother last year?
I'm very excited and happy to participate! I hope to have fun and give it my all.
Has Michele given you guys any advice?
Michele has said that he really supports what we are doing. He says it's a once-in-a-lifetime experience. He has also advised for us to give it our best on stage in order to see who we truly are and to have fun.
Raffaella, are you also a fan of Michael Jackson?
Michael Jackson is not my idol in the same way he is for Michele. However, I enjoy him as an artist and respect him as such, and he was able to dance, sing, and entertain and audience in such an incredible manner. He was also a wonderful person, and everything he did made his heart even bigger. I think he's a fantastic man and will be remembered forever.
Anita, how does it feel to be the first Sammarinese girl to represent her own country?
I feel like it's a big responsibility, but I'm ready to put a lot of effort into it. It's a great opportunity and I'm very excited.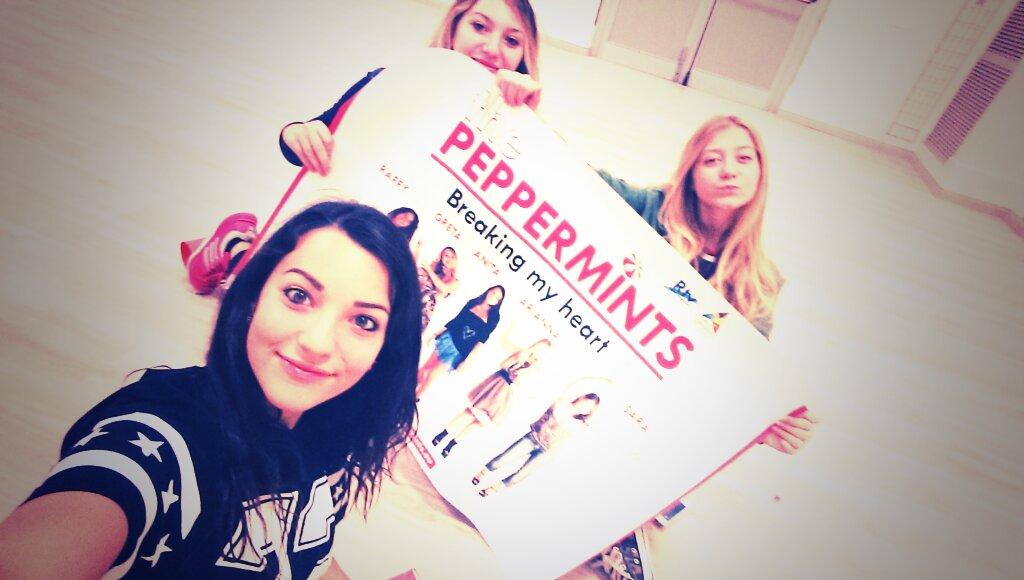 Would you like to participate in the adult Eurovision one day, either solo or as a group?
It's hard to see what the future is right now when the present is coming so quickly. After all, it is only a matter of days until we board a plane to Malta! But it would be great to represent San Marino or Italy as a group if we could. If not, we would still love to go solo!
Have you listened to the other competing songs yet? Do you have any favorites?
Anita: I really enjoy Sokol, from Belarus, and I Pio Omorfi Mera, from Cyprus.
Arianna: I have listened to the other songs, and they are all lovely, but my favorites are Belarus, Slovenia, and Sweden.
Greta: I have noticed two different types of songs in this edition. Some are similar to our style, while others are more traditional. I think our song is catchy, age-appropriate, and so on. They are all great songs, but the one that is stuck in my head is the Russian song, "Dreamer". Also, a big "good luck!" to Italy and every other contestant!
Raffaella: Yes, I have heard many of the songs. I especially like that of the Netherlands, Italy, Cyprus, and Belarus.
Sara: I've heard a few, and I was particularly touched by the Swedish and Cypriot songs. My favorite is still last year's winner, "The Start".
Are your communities very supportive of your endeavours?
The entire community is very supportive of our musical journey. Having people who support you is vital to our success.
Girls, thank you very much for your time! Unfortunately, we have reached the end of the interview, but before we finish, do you have a message for wiwibloggs and its readers?
Hey wiwibloggs! Thank you very much for this fantastic interview! We hope that you follow the Junior Eurovision song contest and support us all in Malta. Please check out our Facebook, Instagram, and Twitter pages. Also, Sara has a fan club, so please check out her Facebook page! Finally, if you want to be in our shoes this time next year and want to represent San Marino, you can join "Vocine Nuove di Castrocaro" now! The rules are online and you can sign up on the official website. That's all! Ciao for now!