She had to bail on "Unser Lied für Lissabon" due to scheduling conflicts. But Barbara Schöneberger is officially back as the host of Germany's national selection for Eurovision in 2019. The entertainer hasn't yet taken the stage but we are already LOL-ing.
Barb has a long history with the contest. Having hosted the national final between 2014 and 2017, she has become Eurovision royalty in Deutschland. Not only do German fans worship her, but she's also turned heads all over Europe (and in the Twitter fandom). We recently featured her as one of the ten reasons why we love Germany. And now we're more than happy to have her return to her throne.
In honour of her return, here are five of our favourite Barbara Schöneberger moments.
1. She charmed the Eurovision 2017 hosts into praising her fabulosity.
German fans have endured a lot in recent years, including a series of last-place finishes. But they've kept their spirit and enthusiasm in tact…and with Barbara as the face of it all. So it was rather revealing when two of the hosts of the 2017 contest in Kiev — the occasionally wooden Wolodymr Ostaptschuk and Oleksandr Skitschko — cheered for Barbara and all of the fans in Hamburg during the voting sequence. Oleks said: 'We really like your energy…give it up for Germany right here!' Yassss — and jaaaas!
2. Her extraordinary outfit during the 2015 jury voting.
Frau Schöneberger — who lives in Berlin with her mister Maximilian von Schierstädt — has delivered some of the biggest fashion moments within the world of Eurovision. And that says a lot given that the stage regularly features exploding everything. While some outré artists play it safe on the red carpet, she goes all in — no matter the weather! Just check out this hip-hugging silver dress with sweetheart neckline and an asymmetrical flourish. Lady Liberty? Wife of Thor? No, honey, it's Barbara.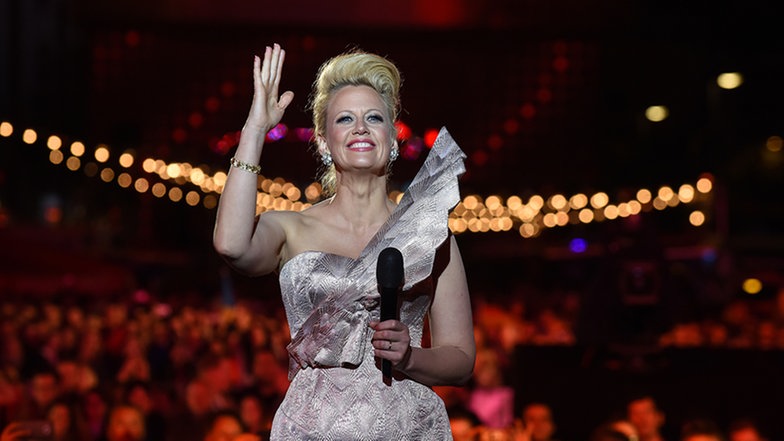 3. The opening sequence of Unser Song für Kiew.
As we mentioned in our ten reasons why we love Germany article, the country's national selection format has changed quite a few times in recent years. But the constant force has been the gorgeous BS. She doesn't just introduce acts and deliver results. She gives the show its fire and heart…and one hell of an intro. Listen as our girl belts it out during this bright and entertaining intro to "Unser Song für Kiew".
4. Her closing speech at the 2017 Eurovision party in Hamburg.
Another year, another bad result for Germany. With frustration at its peak, Schöneberger tried to bring what was a great show to an end. And with her final sentence, which played on a famous Schlager lyric from Heino, she definitely made an everlasting impact.
She said: "Burgers, beer and schnaps are served. Prostitutes, coke and fresh strawberries are handed out backstage. Have I actually said that? I mean fresh raspberries, of course. Excuse me!" Fruity, fabulous, fun!
5. Her facial expressions during the 2015 national selection.
The final moments of "Unser Song für Österreich" are ones to remember. After Andreas Kümmert won the national final by a huge margin, he went on to say that he didn't want to go to Vienna. That meant that Ann-Sophie, the runner-up, had the honour of accepting the opportunity to perform at Eurovision. All of this confusion led to some weird moments for Barbara, too. Trying her best to keep it professional, she handled the situation the best she possibly could….by dropping the phrase coitus interruptus and pulling some faces. Thank goodness we're able to re-watch these four minutes of German Eurodrama over and over again.
What do you think? Are you happy to welcome Barbara Schöneberger back on your screens next year? Sound off in the comments section below!