It's great to transform your hobby into your work, and wiwibloggs has spoken to some people who actually research and teach the Eurovision Song Contest at university. In the second part of our little series exploring Eurovision academia, we met with occasional wiwibloggs correspondent Dr Dean Vuletic, who has recently published the book Postwar Europe and the Eurovision Song Contest and has done active research on Eurovision and its meaning for Europe.
Dr Vuletic describes himself as a "historian of contemporary Europe", and he has specialized in Eurovision and its connection to history as well. Currently, he is a Lise Meitner Fellow and works at the Department of East European History at University of Vienna. He first began researching the Eurovision Song Contest for his dissertation, which he completed at Colombia University in 2009, on popular music and politics in Yugoslavia.
This year he visited Eurovision in Lisbon and noted that the host was a prime example of a country whose entries have been among the most political in the contest. Dr Vuletic explored this in an article he wrote for the University of Vienna. Portuguese entries have, he says, usually been more about national politics — such as the Carnation Revolution — than international issues.
The most recent example of this was in 2011, when the group Homens da Luta represented the Iberian country with "A luta é alegria". The comedic entry was regarded as a protest song, representing the thoughts of the Portuguese people about the European financial crisis, which hit the country hard.
Israel is another country whose entries have historically been filled with political references. Dr Vuletic explains this in his article, especially with regard to Israel's relations with other Middle Eastern states. He believes that the 2019 Eurovision is set to be held in a much more political context than the 2018 edition.
How students can study Eurovision at the University of Vienna
All the historical and contemporary connections the contest has with Europe makes it a great academic subject. Dr Vuletic decided to teach the course about Eurovision for his students as a way to inspire them to study contemporary European history in a creative way, especially through the use of multimedia sources with Eurovision being one of them.
In 2012, he began teaching a course on Eurovision to students at New York University on its campus in the Tuscan capital Florence, Italy. One year later, in 2013, he started teaching the same course "Eurovision: A History of Europe through Popular Music" for students at the University of Vienna.
Other lecturers have been inspired by Dr Vuletic, as the musicology programmes at the University of Vienna also offers a Eurovision-related course called "Voices of the Nations in Songs? The Eurovision Song Contest", which aims to show the essence of the contest. One of the components for passing the module in 2018 was to take part in the public viewing of the final in Vienna. Not a bad exercise, we might say!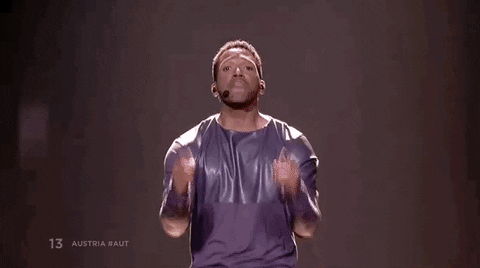 Postwar Europe and the Eurovision Song Contest
These days, Dr Vuletic spends more time researching the contest than he does teaching it. One of the most striking results of his research so far is how Eurovision has been widely appropriated by people of different political shades, "from dictators to drag queens", as he writes in the first sentence of his book.
So while Eurovision has, for example, been lauded in recent years for promoting the rights of minorities, especially sexual ones, there is also a history of authoritarian governments using the contest to whitewash their international images, according to his research.
He recalls that before his book was published, the Eurovision academic field did not have any work that studied the history of Eurovision from a political perspective, despite it being one of the greatest popular cultural phenomena in postwar Europe. Although there are of course several popular books on the history of Eurovision — such as the 2005 book "Eurovision Song Contest": The Official History by John Kennedy O'Connor — there was nothing written by an academic historian before.
Dr Vuletic remembers that when he conducted research for his book, he was travelling all over Europe. He visited many archives and libraries, including of broadcasting organisations and even dug into the archives of the European Broadcasting Union. As a researcher of Eurovision history, he obviously watched all material and editions available.
As Dr Vuletic demonstrates in his book, it is impossible to reduce Eurovision to being about just one thing, be it European integration as some scholars like to say, or nation branding or whatever else. Rather, he says, the contest can be used as a lens through which to view the cultural, economic, political, social and technological changes — and all the consistencies and contradictions that these have embodied — in postwar Europe.
Dr Vuletic concludes by saying in beautiful academic language: "And it is Eurovision's constancy, longevity and transnationality that I think makes it an ideal subject through which to study contemporary European history".
We would like to thank Dr Dean Vuletic for his collaboration on this article. You can visit his website at deanvuletic.com. In 2018, Bloomsbury Publishing released his Postwar Europe and the Eurovision Song Contest, which will come out as paperback in 2019. He is currently researching the controversial Intervision Song Contest, the Eastern Bloc alternative to Eurovision.
Do you think that they should use Eurovision more often during European history classes? Would you like to research Eurovision history? 
And do you know of any other Eurovision-related university courses we should cover? Let us know in the comments below!
Pictures: Scanpix Denmark/Reuters, Dean Vuletic