Since November 1st, Spanish broadcaster RTVE has welcomed song submissions to represent Spain at Eurovision 2019 in Tel Aviv. And needless to say, they're expecting to receive an avalanche of last-minute submissions by the time the process closes on November 15th. But rest assured, RTVE has already had a bit of a windfall: they recently revealed that 336 songs have already been submitted. Only 20 (10 from the online submissions and 10 more that are internally selected) will make the cut.
The 336 submissions demonstrate stronger interest in Spain's Eurovision act this year. The number has already surpassed the 'more than 200 songs' from last year's process — and with plenty of time left to run. It's game on and fuego! 
? ¡Participa en el #Eurotemazo!
? Ya hemos recibido 336 temas
? La mayoría son canciones pop y baladas
? Hay compositores conocidos en el universo eurovisivo
Tú puedes ser el creador de la próxima canción de España en #Eurovision2019
????https://t.co/ITXYlefdcw pic.twitter.com/ntl53mTX5D

— eurovision_rtve (@eurovision_tve) November 12, 2018
Pop songs and ballads
We know: That probably doesn't surprise you at all. Pop songs and over-the-top ballads are always among the best represented genres in Spain. But there is some diversity here. Heavy metal, 'trap' and Latin rhythms are more rare — but definitely present — in the submissions. One song even includes lyrics in all of Spain's official languages, joining the list of submissions written in more than one tongue found in the Motherland.
When it comes to this year's author profiles, RTVE has noticed an upswell of young talents seeking their first opportunity in the music industry. Naturally they are also seeing distinguished Eurovision songwriters ready to slay it again.
? ¡Tú puedes componer nuestro #Eurotemazo! Envía tu canción para Eurovisión 2019 ??https://t.co/xRuwQ1mDTn #OT18Gala6 pic.twitter.com/KAEdWRbUHm

— La 1 (@La1_tve) October 31, 2018
After RTVE selects 20 songs, it will pair them with the sixteen OT 2018 contestants eligible to represent Spain.
The public will then vote for their favourites online, and the top three will go straight to the Eurovision Gala. Up to seven more will make the final cut — as selected by a professional jury — to form the total of 10 songs that will fight to represent Spain at Eurovision 2019.
#Eurotemazo we want you! 
Authors' reveal
News of submissions has sent OT 2017 contestant Cepeda into a song-making collaboration with David Santisteban (the author behind "Quédate Conmigo"). Working under the motto — 'Eurovision is coming' — the pair teamed up to write a number with one man in mind. He who is conquering OT 2018 at the moment….Famous!
And Famous, it seems, is turning heads all over Europe. He's apparently piqued the interest of Austria's Cesar Sampson, who secured the bronze medal in Lisbon 2018. After watching Famous slay his own song "Nobody but you", Cesar has publicly considered writing a song for him for Eurovision. Sadly RTVE's rules won't allow it.
Answering questions in his Instagram Stories, Cesar revealed his interest in writing a song for Famous….and issued a critique of RTVE's process.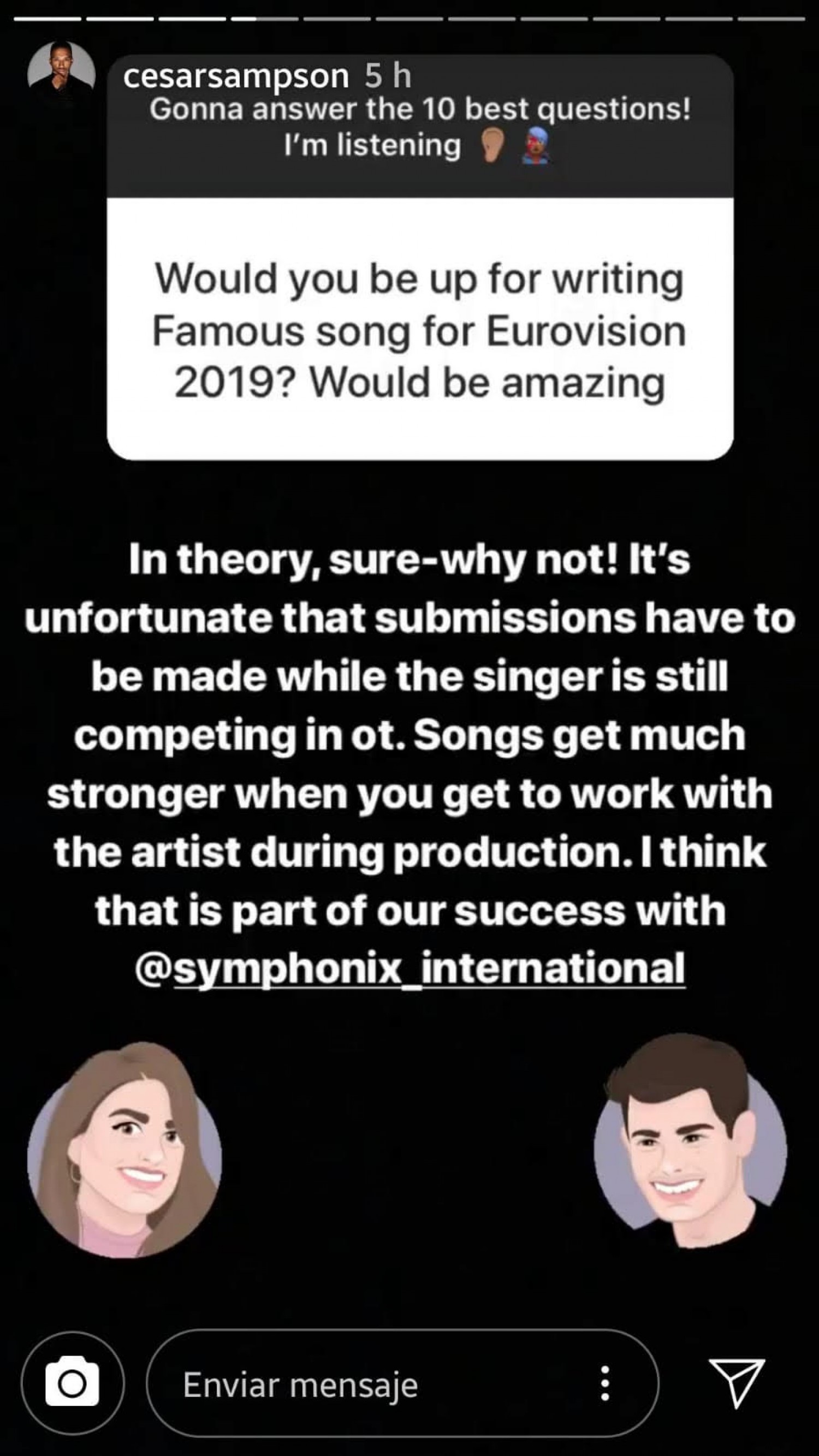 Who do you think might submit in the song selection process? Tell us in the comments section below!