Daði og Gagnamagnið were due to represent Iceland at the 2020 Eurovision Song Contest in Rotterdam with their song "Think About Things".
The group hoped to bring a heartwarming quirkiness and a fun-loving attitude to the table.
They won Iceland's national final — Söngvakeppnin 2020 — by a landslide, and have been charming the world with their laid back approach and meticulously choreographed dance moves ever since.
And now we've compiled 10 facts you need to know about Daði og Gagnamagnið. Let's do this!
Iceland at Eurovision 2020: Facts about Daði og Gagnamagnið
1. Gagnamagnið are a unit
They may be called Daði og Gagnamagnið, but according to Daði, it's important that people know that this is not a case of a frontman and his backup band. They're all in this together. Every single member of Gagnamagnið gets their share of screen time. The national final staging for "Think About Things" was developed by Daði himself. The opening camera shots are designed to introduce the band before Daði begins to sing. So, in the correct order, this is Gagnamagnið: Árný Fjóla Ásmundsdóttir, Stefán Hannesson, Jóhann Sigurður Jóhannsson, Sigrún Birna Pétursdóttir, Hulda Kristín Kolbrúnardóttir and, finally, Daði Freyr Pétursson.
Gagnamagnið, is translated as "The Data". However, it literally means "the amount of data". It's the Icelandic term for "data plan". Additionally, the group are notable for their signature green sweaters. Each member has a pixel art portrait of themselves printed on their respective tops.
2. Daði towers above everyone else
Daði is extremely tall, measuring a whopping 208 cm or 6 ft 9 in height. It is safe to say that he would have looked down on his fellow Eurovision contestants as a result, including his wife and bandmate Árný. She is around 160 cm or 5 ft 2. But don't worry. Even though Daði is above most of us heightwise, he is extremely earthbound and humble. Former Eurovision contestants and silver medal queens Yohanna and Selma can vouch for this… even though they're a "tad" shorter than Daði.
3. Daði has a winning record
In Iceland, there is a music competition called Músíktilraunir. It has been going for some 40 years. It offers a chance to young, unknown bands and singers to introduce themselves and their work to the public. In the past, the contest has been won by bands such as Of Monsters and Men and Botnleðja (who later semi-spawned into Pollapönk!). Back in 2012, when Daði was only 20 years old, he entered the competition along with his friends Kristján and Gunnlaugur (not members of Gagnamagnið). Together, under the name RetRoBot, they won Músíktilraunir. Additionally, Daði was voted Electronic Musician of the Year. RetRoBot went on to release one album together before disbanding.
4. Söngvakeppnin is in the blood
Daði and Sigrún are siblings. And, unsurprisingly, they come from a family that is very invested in music. Their dad, Pétur is also a professional musician. Back in 1993, when Daði was just a toddler and didn't have a clue about what Söngvakeppnin or Eurovision was, his father was a member of Katla María Hausmann's line-up in Söngvakeppnin 1993.  Katla María tried her luck to represent Iceland in Millstreet 1993 with "Samba", a salsa influenced joyride. Pétur played the bongo drums. Unfortunately, Iceland was not ready for some good old fashioned Latino pop and "Samba" came ninth out of ten acts that night.
5. Daði and Árný have been together for a long time
Daði and Árný are a couple. The pair first met when they were 16 years old. But they were just very good friends to begin with. However, love was in the air. A year after they first met, they travelled to the Roskilde Festival 2010. There, something just clicked and they've been together ever since. Daði jokingly refers to the year 2020 as their "10 year French kiss anniversary" as they first locked lips in the open fields of Roskilde. They now have a beautiful baby girl and recently got married.
6. They were relieved not to win Söngvakeppnin 2017
Daði og Gagnamagnið became an overnight sensation when they charmed the Icelandic nation with "Is This Love" in Söngvakeppnin 2017. Prior to that, nobody gave a second look to the quirky synth-pop performed by Daði himself. But because of some slam dunk staging, an undeniable charm and an entertaining performance, Gagnamagnið rose to sudden stardom. The band did not see that coming at all. "We weren't prepared for this and certainly didn't expect it", Daði says. "It was fun and it warmed our hearts, but at that time, we weren't ready for Eurovision. Coming second was a dream come true on its own, for we never thought we'd even get that far".
7. Gagnamagnið were asked to enter a song in Söngvakeppnin 2020
After Gagnamagnið won Söngvakeppnin, rumours arose that the band had been asked personally by RÚV to enter the competition. RÚV's Head of Delegation, Felix Bergsson confirmed the speculation after Söngvakeppnin, which sparked another rumour — that the results had been decided before the contest even took place. But both Gagnamagnið and RÚV discarded that immediately and insisted that even though they were asked to enter a song, the results were legit, and no foul play was at hand. And when televoting results were made public, it was clear that "Think About Things" won fair and square. Daði admitted that he was a little hurt when some Icelanders claimed that their win was fixed. "We were competing on the same ground as everyone else there, and it hurts my feelings when people say we didn't deserve this, because I gave my all when composing the song" he said in an interview with Mannlíf, an Icelandic web magazine. Rumours are a nasty thing, which brings us to…
8. They have no ties to Netflix what so ever
A lot of conspiracy theories saw the light of day prior to Söngvakeppnin. The loudest one was that Netflix was sponsoring Daði og Gagnamagnið behind the scenes and all the publicity, including supportive tweets from stars like Russell Crowe were linked to the company. Of course, it's behind upcoming Eurovision movie in which Will Ferrell stars as an Icelandic musician competing in the contest. Due to Netflix sponsoring the production of Söngvakeppnin 2020, internet conspiracy theorists were quick to throw out accusations about Daði og Gagnamagnið and RÚV. Daði himself just laughs it off. "I'm seeing this everywhere. That Gagnamagnið is sponsored by Netflix because they want to use "Think About Things" as a soundtrack in the next series of Stranger Things! I wish it was true!" he said in an interview with DV in late February. "But the Gladiator likes us. That's insane!" he added.
Song.

— Russell Crowe (@russellcrowe) February 19, 2020
9. They're a viral sensation
Eurovision 2020 quickly established itself as the "contest of weird dance moves". THE ROOP started the trend with their entertaining "On Fire" dance, while Russia's Little Big did their thing with "Uno" in early March. But few have gained as much international attention as "Think About Things". It swept across Europe. The song featured in various TV shows, including the British comedy talk show The Last Leg. The programme's stars were seen sporting their own version of Gagnamagnið's trademark green sweaters.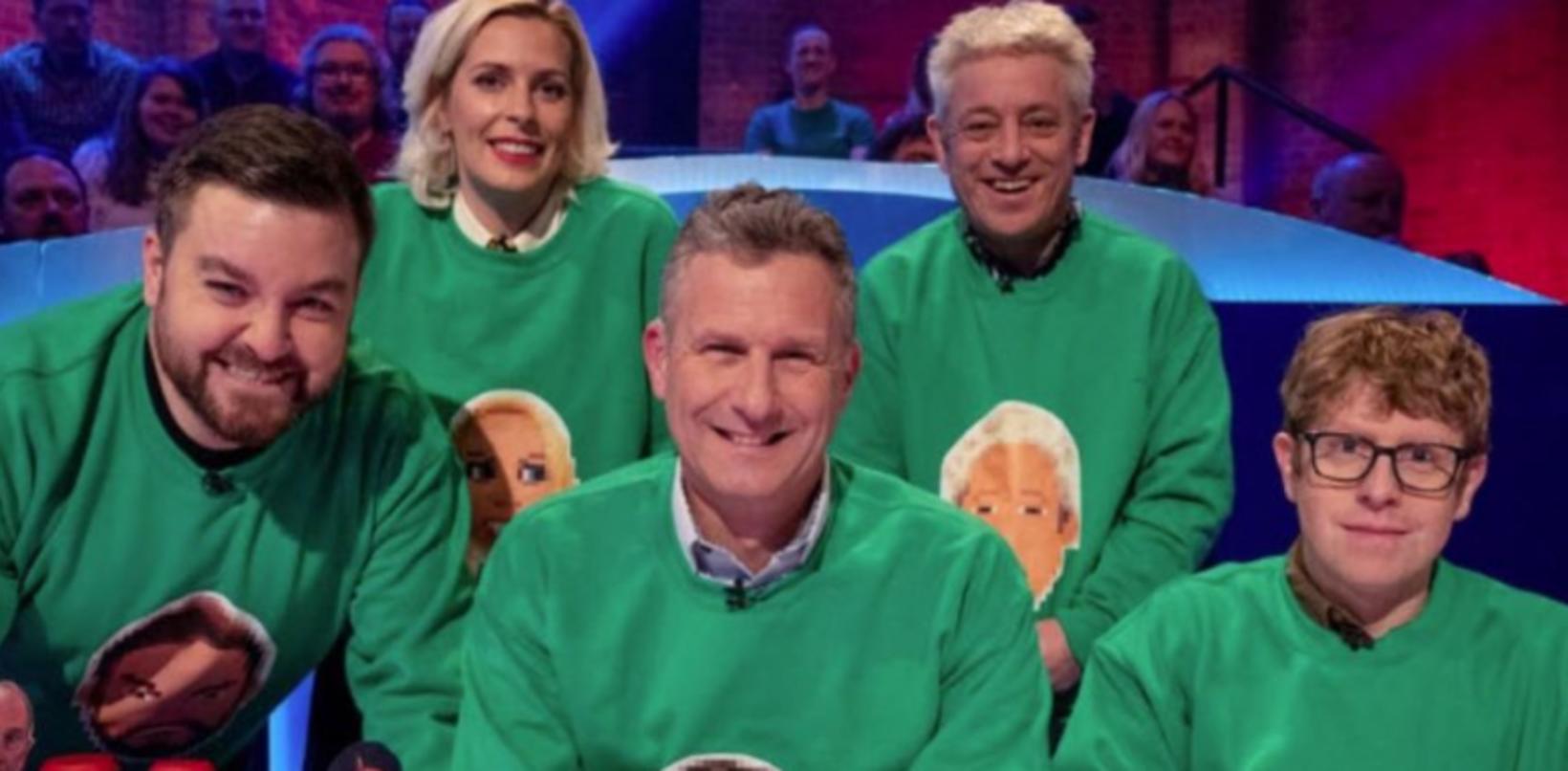 10. Daði released a computer game in 2017
Not many know, but after Gagnamagnið's success in Söngvakeppnin 2017, Daði released a computer game called Neon Planets ft. Daði Freyr in collaboration with the games company Rosamosa ehf. The game revolves around a musical exploration where the player visits all kinds of funky neon planets in the solar system. The goal is to collect melodies to perfect songs, as well as trying to avoid those pesky fail notes. The music is written and composed by Daði. The game can be found on both Google Play and the App Store.
Eurovision 2021 update
 Daði Freyr Pétursson has clarified that he is open to representing Iceland at Eurovision 2021 with Gagnamagnið — if Icelandic broadcaster RUV "wants to invite us." However, he suggested strongly that he would not be open to competing in a national final in 2021, writing on Twitter: "It would just feel weird to me to compete in Söngvakeppnin again."
Do you think things about "Think About Things"? Would you like to see Daði and the gang return in 2021? Let us know in the comments.