It's the competion for newcomers that gave us Saška's "Še kar lovim tvoj nasmeh" and Parvani Violet's "Cupid" in 2020. Now, after a one year break, Slovenia's EMA Freš is returning for its sophmore season. Once again, the format will feed into the main EMA selection for Eurovision 2022.

EMA Freš 2022: 24 acts
A total of 24 acts have been selected for EMA Freš 2022, up from 18 in 2020. They are:
Ain't Harmony
Anja Vodošek
De Liri
Ella
Emma
Evita
Hvala Brothers
Ina
Jaka Hliš
Jon Vitezič
Katja Korošec
Katja Kos
Lara Dovier
LaraYul
Leya Leanne
LPS
LUMA
Marijan Novak & Špela Velikanje
Mia Vučković
Mitja Dragan
Neli Jerot
Nika S.
Nina Sodnik
Stela Sofia
Starting from Monday 29 November, two performers will be presented to the public every Monday, Tuesday, Wednesday and Thursday for three weeks. There will be an online poll each day, with the four winners progressing to a weekly final each Saturday. Here, three songs will advance to the next round – two via public vote and another one based on the opinions of a jury. The Saturday show will be hosted by the Joker Out singer Bojan Cvjetićanin, Eurovision 2012's Eva Boto and rapper Arne.
The 15 eliminated acts will get one last chance to stay in the competition through another round of duels taking place on the week starting 20 December. This will result in a further five qualifiers.
The last 14 will go on to the second stage early in the new year. This will consist of two shows where four songs will be selected to compete in the main EMA 2022 show. Two of these will be chosen by the public, with the jury selecting the other two.
Polls run from 08:00 CET to 20:00 CET on the days in question. You can listen to snippets and vote here. The Saturday shows will take the form of an online webcast.
EMA Freš 2022: Weekly Schedule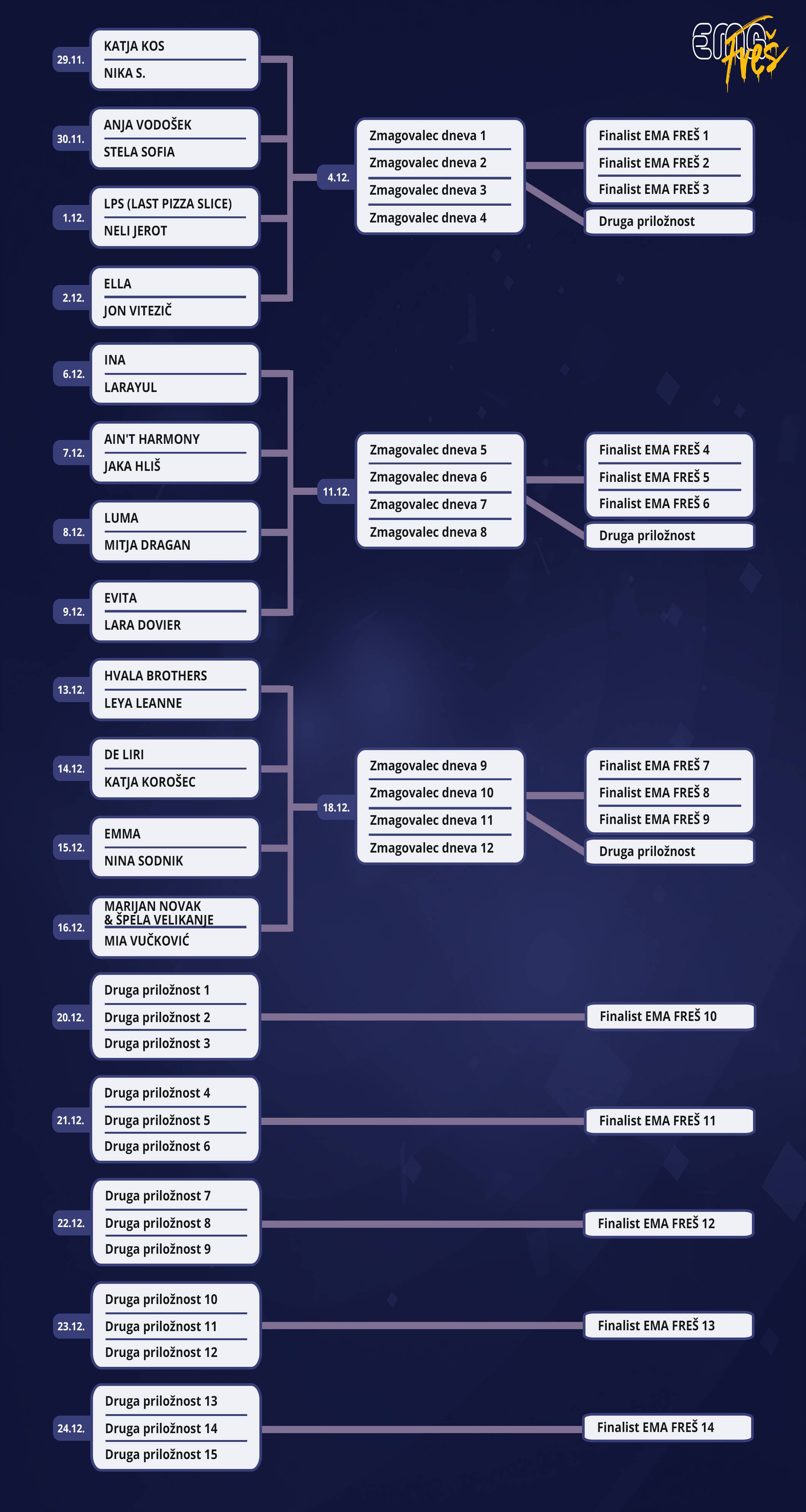 Will you be following the ins and outs of EMA Freš 2022? Let us know below.