The artists of the Eurovision Song Contest aren't just bringing us beautiful music. They're also serving looks. Their bold use of colour — from their clothes to their stage design to their hair and make-up — turns a TV show into a glorious spectacle. Colour, like a great song, can move and inspire us. It's a common language that can evoke a sense of time and place, and inspire a range of emotions including serenity and joy.
Building on this, Moroccanoil — the presenting partner of the Eurovision Song Contest — want to help you experience the colour of the show. They've partnered with us to give our followers 12 tickets to the live shows in Liverpool.
Six winners will receive two tickets each — one for themselves, and one for a friend — to attend either Semi-Final 1, Semi-Final 2, or the Grand Final of Eurovision 2023. 
Winners and their guest will also receive a "Be An Original" kit to help you get your glam on for Eurovision.
 

 

View this post on Instagram

 
How to 
win

 Eurovision 2023 

tickets

: Rules and deadline

There are two ways to enter. 
1. Shout out to a friend
Eurovision brings people together — and our winners will each bring a friend with them to the show. All you have to do is go to our pinned giveaway posts on Instagram, TikTok, or Twitter and tag the friend you want to take to the show in the reply (or in Quote Tweets on Twitter). Tell us why you want to take them or why they deserve to go — or maybe share a colourful moment you've had together.
You also need to follow both Wiwibloggs and Moroccanoil on your chosen platform.
If you're entering via Instagram, please follow @moroccanoil, @moroccanoileu and @wiwibloggs
If you're entering via TikTok, please follow @moroccanoil and @wiwibloggs_official
If you're entering via Twitter, please follow @wiwibloggs and @moroccanoil
Three of our six winners will be chosen at random from these social media comments.
2. Describe the most colorful Eurovision moment in history
To boost your chances, you can also enter a second way. We will choose three additional winners based on their answer to this question: "What is the most colorful look in Eurovision history? And how would you update it for 2023?"
Just answer in a separate comment, tagging and following the accounts as listed above.
If you want, you can also upload an image or video to your account — making sure to tag us — to demonstrate how you'd update the look or redesign the staging. But this is not a condition to participate or win. (If you do this, please use the hashtags #WiwiGiveaway2023 and #Moroccanoil so that we can identify your entry.) 
The deadline to submit your comments is 23 April at 17:00 CET. Winners will be announced on our web site and Instagram on 24 April. 
Anyone can enter. But please note: The prize does not include air travel, meals or accommodation. 
Winners will need to send us their name and e-mail address, along with the name and e-mail address of their guest, by 23:59 CET on 25 April. You can do this via direct message on Instagram. This is so we can register and process your ticket in time.
We will assign the winners a number from one to six. Winner #1 chooses their preferred show first (SF1, SF2 or Grand Final). Winner #2 chooses their preferred show second and so on…
Our sincere thanks to Moroccanoil for making this contest happen!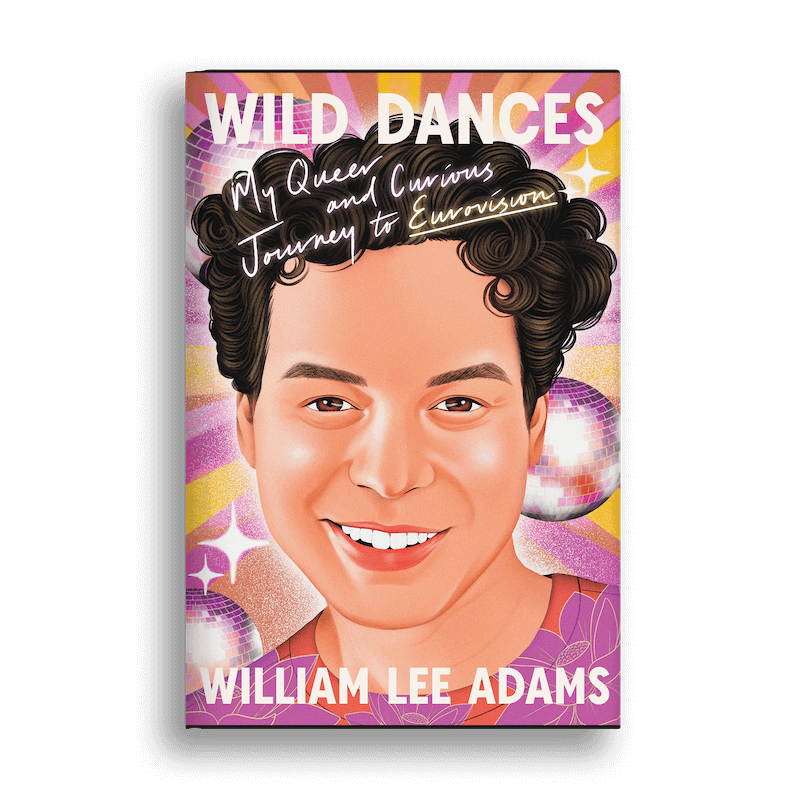 "Wild Dances: My Queer and Curious Journey to Eurovision" (out May 9) is available for pre-order now.
"A revealing memoir about surviving childhood trauma to embrace the prismatic rainbow of chosen family."
🇬🇧 Amazon UK
🇬🇧 Blackwell's
🇺🇸 Bookshop.org