Following Eurovision 2017 there was serious talk of San Marino withdrawing from the contest. Eurofans rejoiced when the Most Serene Republic decided to give ESC another go, giving their presence a new lease of life through the new national final format, 1 in 360. Serving as the country's first ever national selection, it was an undeniably bumpy ride…but overall a jolly good attempt at making the microstate competitive at Eurovision again.
Naturally any first attempt is filled with stumbles — and, in this instance, some very unfortunate optics. It's no wonder that in the minds of many this was more Scam Marino than San Marino. In any event, mistakes are meant to be learned from. So we have reviewed the contest's format, and come up with 10 areas where they could improve the show for 2019.
1. Consistent rules and expectations
When 1 in 360 was first announced, it made many ambitious promises, such as having multiple live shows, and even filming the show in 360 degrees. Failure to deliver on these promises, as well as numerous alteration of goalposts, the number of shows, revamps and line-up changes (for both the acts and the jury) gave the impression of chaos (and perhaps a bit of in-fighting and differing visions?) in RTV HQ.
2. A smarter submission process
The preliminary stages, where artists could upload an audition video in the hope to be picked for the televised shows, wasn't fully thought out. There were numerous fake entries uploaded to the platform on behalf of acts like Margaret and Maxine Swaby, who had no idea it was happening. This could have easily been prevented with simple measures, such as requiring a 20-second intro from the artist themselves where they say why they want to represent San Marino at Eurovision….or even more basic identity card or e-mail verifications. Artists were also allowed to submit studio versions of songs, which seems bizarre when they are being judged on their vocal abilities.
3. Stronger Sammarinese identity
Whilst they did offer a special wildcard to 1 of the 8 Sammarinese artists that applied to represent their country, this is embarrassingly low representation – and given that there's so many talented artists from the Republic itself, we'd love to see an exclusively Sammarinese line up some day. It would be interesting to see how the Sammarinese people feel about being represented by a Maltese and a German singing a song with zero connection to their country whatsoever.
4. Remove the acoustic shows
Two of the three shows that were filmed for 1 in 360 were entirely acoustic performances. Whilst melody and lyrics are indeed important elements to a song, the overall impact relies massively on the studio production. Take Emma's entry for instance – when "Diamonds" was selected as her competing song it was a guitar ballad, but when it was actually produced it turned out to be an almost unrecognisable ethno-europop number. A live band may be a nice idea, but would they be better off simply giving us the finished product and saving some dollar? Yes.
5. Give each artist their own song
Once the jury had selected which of each artists' two potential entries should be sung in the final, it turned out that Basti, Judah Gavra and Franklin Calleja would all be singing the same song. While their individual versions may have had a slightly differentiated production, fans of "Stay" had to decide whose version they preferred – meaning that each artist's potential votes were divided in three. Therefore, assuming that the public vote is not corrupt (long pause), these three artists were all put at a massive disadvantage. They also could aim to attract some big names in the songwriting world by having an open call for song submissions.
6. More representative public vote
"Letting viewers have a say" started off on the wrong foot when Giovanni Montalbano won the 'internet wildcard' via some very unsubtle vote buying. However, with the grand final 'public vote' being decided by how much money was raised towards a €8000 crowdfunding target, things got even more fishy. Especially when you consider that many of the people involved in 1 in 360 made investments themselves.
As of 23rd February, Sara de Blue was leaps and bounds ahead of her competitors, having raised €6050 towards the €8000 target; the closest being Jenifer Brening with just €2922 (who, the previous evening, saw her fund suspiciously increase from €40 to €2882 in a matter of hours). Sara was the first to be fully 'funded,' although by the time the vote had cut off, four more artists had suddenly reached the target, and therefore all received a maximum 12 points. However – if the rules stated that 12 points were awarded the first artist to reach the goal, 10 points for the second artist, and so forth – the votes would be more representatively allocated, and in fact it would have been Sara that would be representing San Marino in Lisbon.
7. Stable stream
Many Eurovision fans were squealing in excitement at the prospect of tuning in to San Marino's first ever national final. Sadly the small Sammarinese web domain couldn't handle the high traffic, and the stream was so poor that it was almost unwatchable. Next year let's stick to Youtube, please.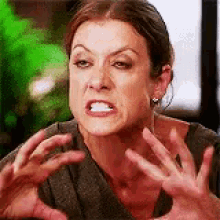 8. Slicker production
Whilst we commend San Marino's courage for producing the show on an evidently tight budget, we can't help but think that those crowdfunding riches could have been put to better use. The sound in the live final was not connected to the programme's actual sound system, but was instead played out of a speaker within the studio – and whilst this may have been fine for the live audience, it didn't show the songs and artists' full potential to viewers at home. The hosts also had a tendency to awkwardly lash out the judges for their comments, notably after Jessika and Sara's performances.
9. Re-think the jury
As is the issue in many national finals, the jury's feedback added little merit in terms of helping San Marino choose a Eurovision entry. What good was gained from cruelly criticising Emma's vocal abilities, or ridiculing Sara in her glamorous dress? Two jurors even criticised Irol's song for being "not right for Eurovision" – despite the 1 in 360 team having selected it themselves as a potential Eurovision entry for him.
It was also unclear who the actual jury were in the end. Whilst Zoë initially said "I'm relieved because we might be the judges, but we're not deciding who goes to Eurovision," inside rumours claim that eventual jury was head of delegation Alessandro Capicchioni, last-minute judge John Kennedy O'Connor, and the owner of 1 in 360, Matthias Strasser – and that certain judges were eliminated from the panel due to their preferences for certain acts. True or not, the jury should have revealed their individual votes on a scoreboard to improve transparency and avoid accusations of corruption. If you aren't transparent, you can't blame people for coming up with their own theories and explanations.
10. A fairer result?
Sara de Blue was a huge favourite among the fan community – winning almost every opinion poll by large margins, and racking up tens of many thousands more Youtube views than her competitors. But we do understand that juries don't always agree with fans. Yet regardless, after achieving an applause so tremendous that the hosts had to ask the audience to stop, and receiving comments from the judges such as "You could go far in the Eurovision Song Contest," "I think I may have heard the winner of San Marino," and even "When you're in Lisbon," it seemed certain that she was the jury favourite too. Therefore it came as a surprise to see her finish just third with the jury. Zoë's face at 1:51.31 speaks for itself (see below).
1 in 360 was produced by (the appropriately named?) Naff Naff ltd, which is owned by Matthias Strasser. Prior to the show, this same Mr Strasser had written various tracks for competitor Jenifer Brening, such as "Not That Guy," "A New Me" and "Alive". He is also part of the rumoured three-person jury in the final. Coincidence? Maybe. Nevertheless, contestants have criticised the show for having "a set vision" of their entry for Lisbon from the beginning. After Jessika and Jenifer's win on Saturday, San Marino's odds for winning Eurovision are currently sat at 100/1.
Despite the tone of this article, we sincerely congratulate Jessika and Jenifer on their victory and wish them the best of luck come May.
What do you think? Did you enjoy 1 in 360? Does San Marino use Eurovision solely for economic profit? Leave your comments in the box below!