We've seen recent attempts to debut at Europe's biggest song competition from Kazakhstan, the Faroe Islands and even China. But as the outside world looks to Europe there's at least one European nation that's yet to show interest in joining the orgy of flags, even after 62 years. We're talking, of course, about Vatican City — the country housed entirely within Rome with a territory smaller than Serhat's spare bathroom and a population the size of a Maltese JESC opening act.  
The country's national broadcaster – Radio Vaticana – is an active member of the EBU, and therefore is eligible to participate in Eurovision. However, they claim not to be interested in the contest, as their channel is purely dedicated to the broadcast of religious material. Well, we at wiwibloggs think that their programme catalogue is in need of a serious makeover, and first and foremost is the addition of Eurovision. Here are ten reasons why the Vatican should sacrifice two hours of operatic hymns to participate in Eurovision 2018.
1. Because our favourite religious-themed acts never made it to Eurovision
In recent national selections, the likes of The Ekklesia Sisters in Malta, and Die Preister and Gregorian in Germany failed to make it to Eurovision. Even Swiss entrants Heilsarmee had to radically change their name to Takasa to hide their Christian roots. If Eurovision is all about diversity, why isn't there a space for the clergy to show up and show out?
2. Because we still haven't heard Latin at Eurovision
Vatican City is the only country in the world where Latin is used as an official language. And considering Ukraine is bringing the contest back to Kiev this year after debuting Crimean Tatar to the contest, who knows what Latin could do for the Vatican. Eurovision 2019 in St. Peter's Basilica anyone?
3. Because we are yet to see Pope Francis drop some phatt bass
4. Because Suor Cristina needs to get to Eurovision ASAP
She is Italian. She is a nun. She sings. She slays. Enough said.
And she's already said she's interested…
5. Because if Vatican City participates, there's only 2 to go
A participation would leave Liechtenstein and Kazakhstan the only two European countries never to have competed in the contest. One step closer to world domination, baby.
6. Because we need an outlet for upcoming Italian artists
The nature of the Italian selection means that only established artists are selected, and the nature of the San Marinese selection means that only multi-millionaires are selected.
It's about time Italy's hidden gems stop being neglected – how else will we see our favourite pug-loving soul singer on the big stage?
7. Because they can afford it
In 2015, it was reported that sixty percent of the millions of euros donated to the Vatican "went into Vatican coffers." At wiwibloggs we are strongly against corruption. And whilst Eurovision may not be helping out the poor catholic community, it's certainly better than paying for a nun's swanky new bling.
8. Because Switzerland needs a voting friend
And those Swiss guards would make some sexy backing dancers.
9. Because Vatican City is home to one of the oldest bands in the world
The Sistine Chapel Choir formed in 1417, but only in 2015 did they record their first album. The choir even features thirty boys: who knows, Vatican City could send a slick new boy band to rival San Marino's Peppermints at Junior Eurovision (assuming the EBU forgives them for chopping their balls off).
10. Because we said so and we SLAY.
Sorry I couldn't think of a tenth one but I wanted a round number. Nine isn't as sexy, and God is watching.
Unfortunately this article must end with bad news. Recently a fan asked the official broadcaster whether they had plans for Eurovision 2018, and they responded with a pretty clear "no".
"No, definitely not," their response reads. "Not our style, I'm afraid."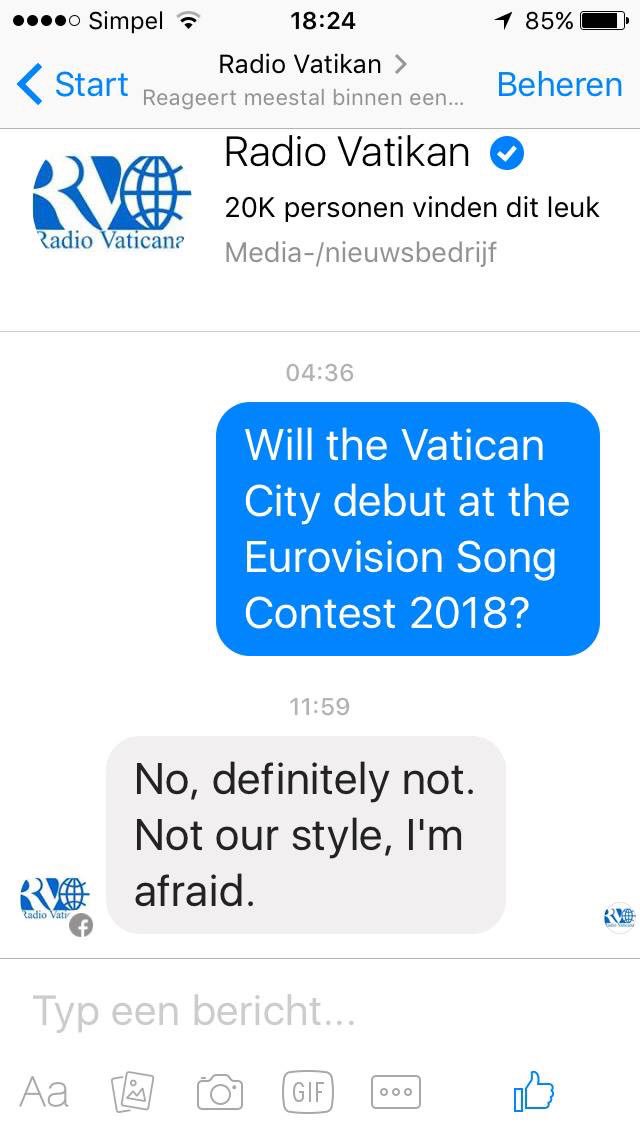 What do you think? Could they? Should they? Would they? Leave your comments in the box below!