Internet users said "Hvala ne!" to another four acts this week in Slovenia. Its national selection continued with the second week of their EMA Freš-qualification duels. Klarity and Parvani Violet made it through, earning two spots in the final of the wildcard round.
Once again users were asked to vote for their favourite songs in the EMA Freš duels, which took place on Monday, Tuesday and Wednesday. After three songs qualified for this week's showdown, only two of them got the golden tickets to the final round. The jury and the online users each decided to give one song their Go.
The first duel took place on Monday, when Klarity won the voting over Tilen Lotrič.
The second duel took place on Tuesday. There, Petra Ceglar managed to defeat Marko Škof.
The third duel took place on Wednesday. Parvani Violet defeated Sara Petešić.
That means this week's final — which took place today — saw Klarity, Petra Ceglar and the band Parvani Violet battling it out for two new spots in the final. The winners have been announced. They are Klarity and Parvani Violet. It was not announced who won the online vote and who was chosen by the jury though. Slovenians can keep a secret!
Who are the qualifiers?
Parvani Violet

What Beyonce is to Destiny's Child, Veronika Steiner is to Parvano Violet! She is 21 years old, she's the face of the band and was a finalist of Slovenia's Got Talent last year. So the public is already familiar with her. The international style and sound of Veronika's band Parvani Violet probably helped her getting one of the EMA Freš final tickets. Veronika currently lives in Stockholm where she gets her inspiration for new music. She also covers songs on YouTube and has already taken part in various music competitions with her band. Parvani Violet are one of the hot favourites in the competition so far. Together with her band, Veronika is singing the song "Cupid".
Klarity
Klarity is a music project by singer-songwriter Klara Klasinic. She is a woman of many talents having given concerts at school and with artists all over Slovenia. Among other things, she performed at the Lent Festival, a two-week Slovenian festival in Maribor. She's been writing songs for projects and herself for many years. Klara loves to perform because nowhere else she can be herself as well as on stage. Our girl is not afraid to go one step further and is now ready to show her talent to all of Europe! With her song "Dahim" she is now one step closer to getting one of the two golden tickets to the EMA final in February.
What's next?
Next week the last three rounds of the "new duels" will take place. From the three daily winners, another two songs will qualify next Friday. The online vote takes place every day from 10 am to 8 pm CET. Meaning that six songs will make it to the next round of the show in general – the EMA Freš final.
But hold on! Everyone deserves a second chance, right? The twelve songs that didn't make it to the final round yet will still have the chance to do so. For the following two weeks these "lucky losers" will again battle it out in duels. So after these two weeks another four songs will be through and will join the first six winners. In the end, a total of 10 songs will take part in the EMA Freš final which will take place later this winter. This whole process will take place online only.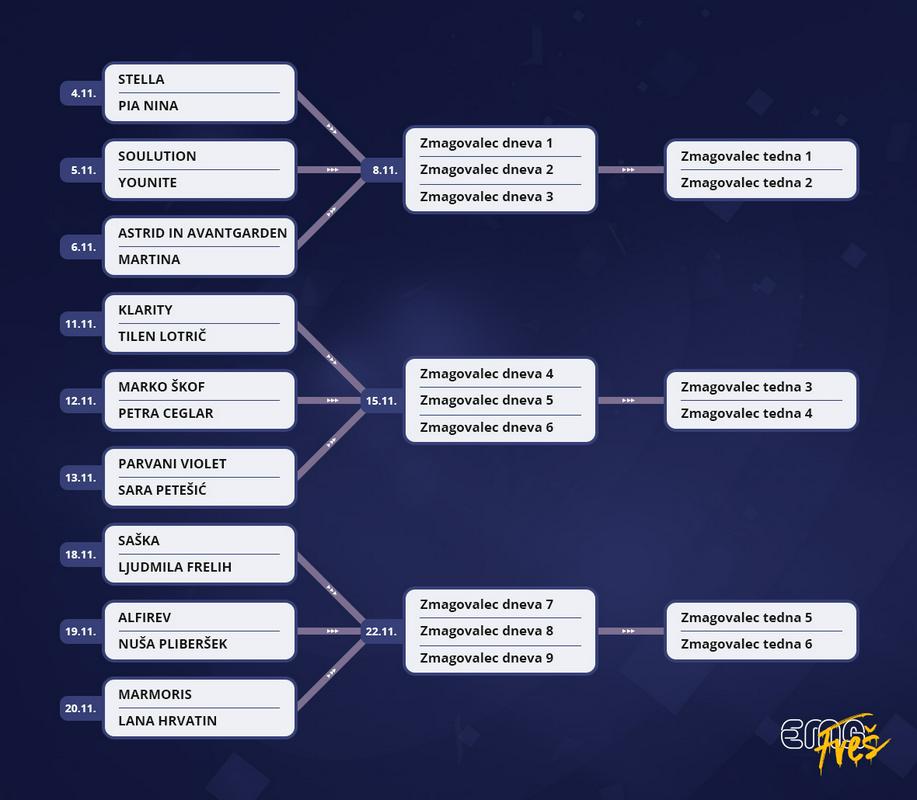 But just two spots are free for the main competition in Slovenia. That means only two of the ten songs will get crowned as the winners in the end, and they'll then go on to take part in the actual final of Slovenia's EMA 2020 in February and join other eight more established acts. Hey, Raiven! Hey, BQL!
Are you happy with the two new qualifiers? And who is your favourite of the previous EMA Freš acts Stella, YouNite, Klarity and Parvani Violet? Let us know in the comments below.