Last night the Wiwi Jury, our international panel of music unprofessionals, flew to Georgia to eat some traditional khachapuri and to review Nodi & Sophie's "Waterfall". Did we need a life jacket to deal with all that water? Or did we end up floating blissfully in a sea of love? Read on to find out.

HK Dick: Now this really could propel Georgia to their highest Eurovision finish yet. So much depends on how much chemistry Nodi and Sophie can conjure up between them. Sophie will deserve a best actress nomination if, at the end of three minutes, we believe that her waterfall is gushing for Nodi who resembles a younger looking Des O'Connor. Her juices are probably more of a trickle than a cascade (enough of the waterfall puns)…Nice piano and strings throughout and bound to score well with juries and the public.
Score: 8/10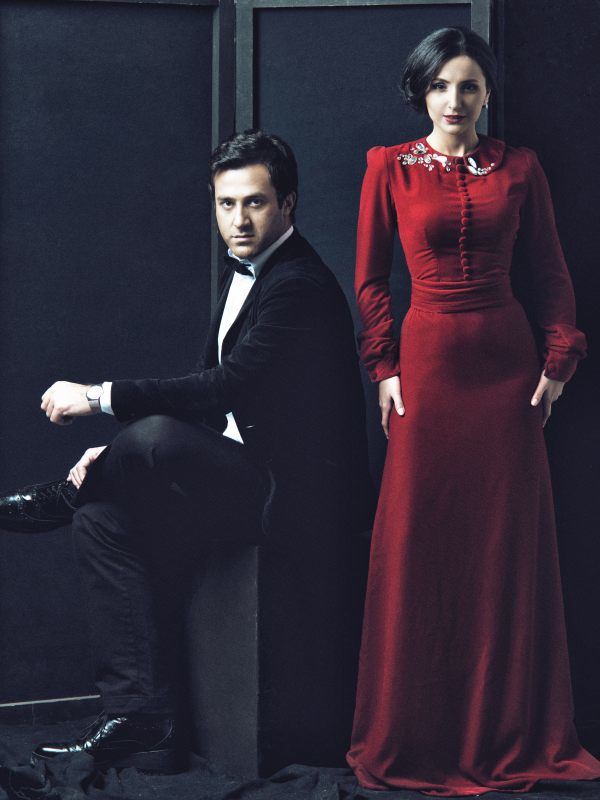 Vebooboo: If you're going to break out supremely OTT (over the top) lyrics like 'There's no me without you', then you better deliver on all dimensions. Whereas Denmark brought it with their duet in 2010, I feel this one falls completely flat. I grew up singing 'don't go chasing waterfalls' from TLC, and I think that message is now ingrained in me. I will not chase after these two in the press centre. I will not ask for their picture. I will not try to sleep with Nodi. On all three accounts, I am giving Georgia especially harsh treatment this year compared to my usual behavior with Eurovision acts. I seriously hope Thomas G:son isn't getting a big bonus for his work on this one. I'm dying for the year we get to travel to Tbilisi for Eurovision and feast on all the country's amazing food. Sadly Ima have to wait yet another year.
Score: 5/10
Alexander: If you want to win Eurovision, what do you do? Hire the composer of last year's winning entry! That's exactly what Georgia did this year, as Thomas G:son composed "Waterfall". This song feels like a mixture of Ukraine 2013, Spain 2012, Azerbaijan 2011, and Denmark 2010 to me. It's a typical and generic Eurovision ballad, but I have to admit that I like it. It's not original at all, but still beautiful. Even with their hilarious accents, Nodi and Sophie are great singers and do justice to the song. Their performance does feel a bit too superficial though—the sparks that they are trying to convey just aren't there.
Score: 7/10
Bogdan: I like it and I like the two voices together, but this "Waterfall" looks artificial to me. Nodi and Sophie have no chemistry together. (Maybe the organizers noticed that, too, and that's why they barely feature together in the video?) But then what are they going to do in terms of staging in Malmö, are they going to put them in different corners? Not to mention that it's too soon for a "Quédate Conmigo" tribute! "Waterfall" has clearly copied the formula of last year's brilliant Spanish entry, but I wonder whether it's going to enjoy the same success…
Score: 8/10
Mr Häggkvist: It's not a fan or press favourite, but when the voting starts we'll see lot's of 8, 10 and 12 points. People will appreciate this after the contest. I don't love it, but I think Mr G:Son did a great job with this entry that for sure will be in the final.
Score: 7/10
Wiwi: Sophie's statement that "Your love is pouring down on me like a waterfall" is a bit too porno for my liking. But can you blame her for having nasty thoughts? Nodi, who we bumped into at Eurovision in Concert, is pure muscle. I hope he wears a tight, low-cut top at Malmö. In any case, this is one of the few songs that gave me chill bumps when I heard it live. You can't fault this duo vocally: they are on point and in charge, and that helps you overlook the fact they have absolutely no chemistry. The song keeps building throughout the three minutes. And when it reaches its "Quadate Conmigo"-style climax the pleasure is two-fold. Double trouble, y'all! It's cheesy, dated, predictable, saccharine, over-the-top and a blatant repackaging of Spain 2012. But it has mass appeal and two of this year's strongest vocalists. We seriously might be going to Tblisi next year!
Score: 9/10
Deban: Georgia raises the bar with this number. The official video is equally spectacular, and proudly showcases the sweeping vistas of the Vardzia region of the country. This duet aspires to be a reprise of "Running Scared", and in doing so, surpasses the original. It soars beautifully and uses nature as a vehicle to invoke their all-encompassing love. Staging, wardrobe and LED capture are crucial to "Waterfall"'s success in Malmo. Thomas G:Son has been drafted to produce this entry. Rest assured, high quality will trump other factors.
Score: 8/10
Wiwi Jury Verdict: 7.43/10
Wiwi Jury Final Ranking: #5 out of 39 contestants
You can see the latest reviews and standings on the Wiwi Jury page. You can also listen to all 39 entries on our contestants page.